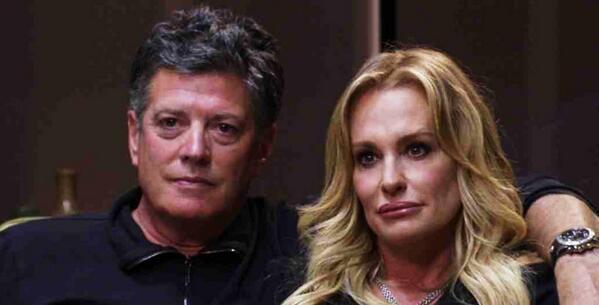 Married almost two weeks and already there is trouble in their marriage. Media outlet, Radar Online has learned that the newlyweds are already at odds over where they should live! "That's kind of stupid - arguing over a place to live."
"Taylor was overheard telling multiple wedding guests that her agent wanted her to move back to Los Angeles, from Colorado," an insider tells media outlet, Radar Online. "The purpose being, of course, to kick start Taylor's reality television career. Having recently filmed Couples Therapy with Dr. Jenn Berman, Taylor sees herself getting back on the small screen full time.
"Of course, John doesn't want to move from Colorado to California," the source continues. "He has kids from his previous marriage that he spends time with. If he moves, that would of course impact his relationship with the children."
This is just the latest John and Taylor's to the couple's relatively fresh union. During the wedding reception Taylor Armstrong made a rambling speech that made many of her guests uncomfortable. Taylor wore a Chagoury Couture by Gilbert Chagoury gown at the cliff side wedding at the Bel Air Bay Club, overlooking the Pacific Ocean, but it was her words and not her looks that had guests raising their eyebrows as she "reflected on her ex-husband Russell Armstrong and the domestic violence she suffered by his hands," a source told media outlet, Radar Online.
The source said her speech, captured by WETV cameras for David Tutera's My Fair Wedding reality show, grew even stranger when she promoted a weight loss company.
"It was like she was an ad for the company," the source said. "She basically said 'After my husband committed suicide I knew I needed to get back in shape,' and it was really strange."
Other wedding guests that had known Taylor's first husband, Russell, remarked at "how similar he is to John in personality. Russell was extremely intelligent and well spoken, just like John. No one is saying that John is physically or verbally abusive towards Taylor, but otherwise, there are very similar comparisons between both." I can't understand what Taylor is complaining about. Like she said to Farrah on Couples Therapy, she has more money than Farrah Abraham I think on the third or fourth episode. She can fly to California to do reality show and stay where her husband has children from previous marriage and get over the drama.
OPEN DISCUSSION